History of Argus 739
CP-107 / Argus 10739: 739 was the 30th Argus built at the Canadair plant in Cartierville, Quebec. It was Taken On Strength (TOS) by the RCAF on February 22, 1960 and was accepted by 404 Maritime Patrol (MP) Squadron based at RCAF Station Greenwood, Nova Scotia. In 1965, Argus 739 was re-assigned to 415 (MP) Squadron, RCAF Station Summerside PEI. In Jun/Jul 1966, 739 flew from Summerside to Pisa, Italy via the Azores. While in Italy 739 participated in NATO torpedo exercises and dropped a practice torpedo at the range near Pisa. 739 was probably the only Argus to ever visit Italy. Argus 739 continued operations with 415 (MP) Sqn until 1975 when place in "short-term storage at CFB Greenwood. In 1977, 739 was returned to service at CFB Summerside until 1979 then transferred back to CFB Greenwood. On 5 June, 1980, Maj. Bill Naylor took 739 on her final flight to Summerside and she was prepared for static display. Argus 739 was retired from flying duty after exactly 20 years and 4 months with a grand total of 15, 087.4 flying hours. With an average flying speed of 200 mph, this could represent about 3,017,480 miles.
In 1980, a group of local citizens, led by Lowell Huestis, petitioned DND to have an Argus airframe preserved and mounted just outside the gate of Canadian Forces Base (CFB) Summerside). The Base Commander of Summerside assigned Maj. Wayne Griffith of 415 (MP) Squadron to assist with the project. Curran & Briggs Ltd and MF Schurman Ltd, both of Summerside, provided the cement to build pedestals required to mount the aircraft. The photo below shows Lowell Huestis and the Base Commander, Col S. Kinkaid turning the sod for the mounting pads.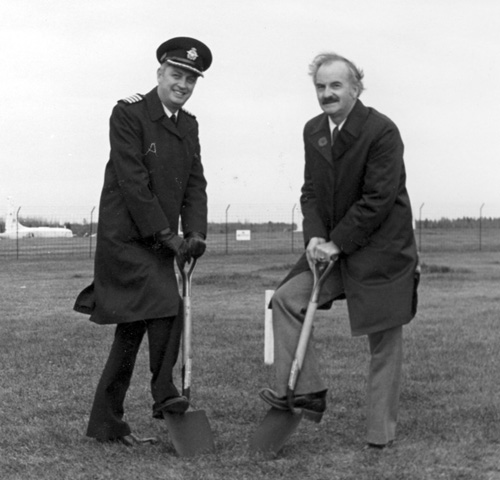 On 6 February, 1981, a BAMEO tow crew moved 739 to its present position where it was mounted on its final resting place 21 years and 1 day from the date of her first flight.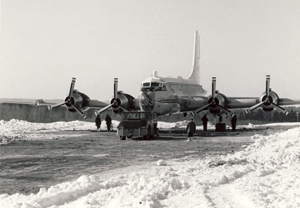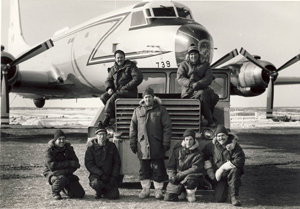 During the 40th Anniversary ceremonies of CFB Summerside, the Premier of PEI, Angus MacLean unveiled a granite marker engraved with the names of all flying units to have served at Summerside and fitted with a bronze plaque engraved with details of the CP-107/Argus.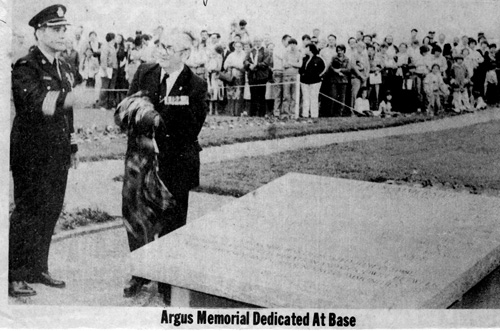 In 1990, shortly before the closure of CFB Summerside, 739 was towed to a hangar where it was sanded and repainted by CF personnel before being returned to its pedestal. Minor repainting was conducted in 2008 and a full scale refinishing was begun in July 2010. Argus 739 will be the focal point of the Air Force Heritage Park, PEI, to be located at Slemon Park.